11/02/2021
Talk With Us Tuesdays in November
Join us for a variety of classes this November! View the workshop schedule below and contact Resident Services Coordinator, Charlotte Mattox at 334-821-2262 ext. 230 for more information!
Mask required for all in-person events!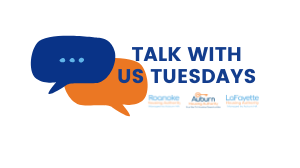 Re-posture Yourself for Purpose (In-Person & Zoom)
Join Tasha Simpson of CCRC's Family Resource Center as she discusses the benefits of the ARESET program. This introduction to "Re-posture yourself for Purpose" program will inform attendees about The STAR Career Process and provide a new perspective on SNAP Meals and budgeting. Don't miss this interactive short talk where men and women with vision become men and women with purpose. All Participants will receive a sharable tool, a gift and enter a raffle to win a $25 VISA Card.
November 9th - 2:00 PM
In-Person: 415 White St., Auburn, AL
Meeting ID: 879 7520 8782
---
You Can Become A Homeowner (Zoom)
Join Zandra Davis, Realtor with Keller Williams Realty, Inc, as she gives tips to become a homeowner and provides a step-by-step process to prepare for homeownership.
November 16th - 2 PM
Meeting ID: 827 4814 6455
---
How to Have A Better Relationship With Your Children (In-Person & Zoom)
Join Jessica Segrest, Parent Educator and Child Care Consultant from Child Care Resource Center, Inc., to discuss the impacts of Adverse Childhood Experiences (ACEs) on children and families. She will help attendees better understand how to recognize ACES and learn ways to prevent ACEs through assuring safe, stable, nurturing relationships with our children.
November 23rd - 2 PM
In-Person: 415 White St., Auburn, AL
Meeting ID: 830 9883 6005
---
Kids Ask the Darndest Things! (In-Person & Zoom)
Join Jenny Sanders, a Child Development Consultant with the Child Care Resource Center/Family Resource Center, as she shares tips for answering those tough questions our children ask us that catch us off guard. Attendees will learn how to become an "askable adult" to prepare for these moments. All participants will enter a raffle to win a $25 gift certificate to "Let's Face It" for brows and lashes.
November 30th - 2 PM
In-Person: 415 White St., Auburn, AL
Meeting ID: 871 535 1745
---
Use the link below to follow us on Facebook for regular calendar updates, resident news, and community resources!